Peels
Lift your skin to a new level of health with our personalised treatments
Our range of skin peels are formulated to rejuvenate, brighten, smooth wrinkles, detoxify, protect and energise. The result is youthful, radiant skin.
Choose from a selection of gentle enzyme peels or higher-level AHA/BHA chemical peels. Our peels are rated from level one, to level three depending on the strength of the peel and how much prep-time is needed before each treatment. These IMAGE Peels are complemented by daily home care products to help maintain and enhance the outstanding results. 
Level One Peels
What is an Enzyme Peel?
Enzyme peels are made from fruit enzymes and are a gentle way to exfoliate, making way for fresh, healthy layers of skin with minimal irritation.
Signature Face Lift Enzyme Treatment
Suitable for Rosacea, dry, dehydrated and sensitive skin.
Ormedic Lift Enzyme Treatment
Suitable for unbalanced and sensitive skin, safe during pregnancy and breastfeeding.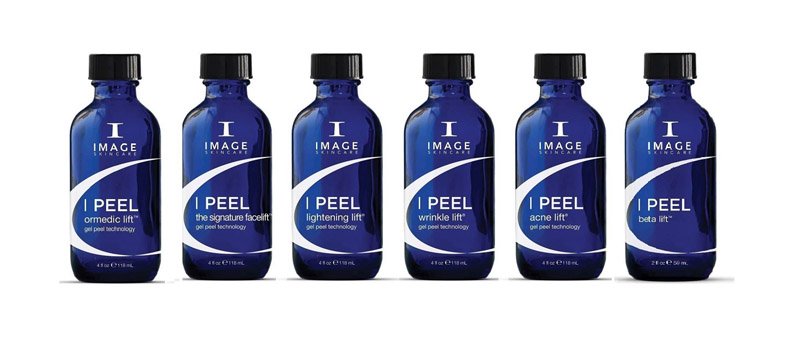 Level 2 Peels
What is a Chemical Peel?
Our chemical peels help to reverse the visible effects of skin damage in two ways. Firstly, they power away dull, dead cells to illuminate the skin. This will reduce the appearance of fine lines, wrinkles, age spots, clogged pores, and blemishes. Secondly, they support collagen for firmer looking skin over time. A full course of peels is recommended to achieve the best results.

We have two levels of our chemical peels. Both require two weeks of skin prep beforehand. You must have had at least one level two chemical peel before you can move onto a level three peel.

Lightening Lift Peel
Suitable for pigmentation issues, photodamage, sunspots and post-inflammatory hyperpigmentation – this peel comes in two strengths.
I PEEL Lightening Lift FORTE
Suitable for advanced pigmentation issues, ageing, dry and dehydrated skin, uneven skin tone, age spots and redness prone skin.
Wrinkle Lift Peel
This Peel comes in two strengths and is suitable for fine lines, wrinkles, rough skin and photo-ageing.
I PEEL Wrinkle lift FORTE
Suitable for advanced ageing concerns, including wrinkles, rough complexion, uneven skin tone and tired or dull skin.
Acne Lift Peel
Suitable for oily, congested, acne-prone, rough, blemished skin.
Level 3 Peels
Advanced Chemical Peels
Due to their strength, a consultation is required before booking the following treatments. These two peels are only carried out by our fully qualified medical practitioner. A consultation and prep time prior to the peel is necessary. Some downtime will be required following these peels, so please keep this in mind when booking your appointment dates.
As part of your level 3 treatment, you'll receive an IMAGE post-treatment kit to take home.
I PEEL perfection lift
Targets ageing, pigmentation issues, uneven skin tone and lines.
I PEEL beta lift
Suitable for acne-prone, oily and ageing skin.
Add on LED light therapy after a peel, as an aid for healing, rejuvenation and collagen production – £25